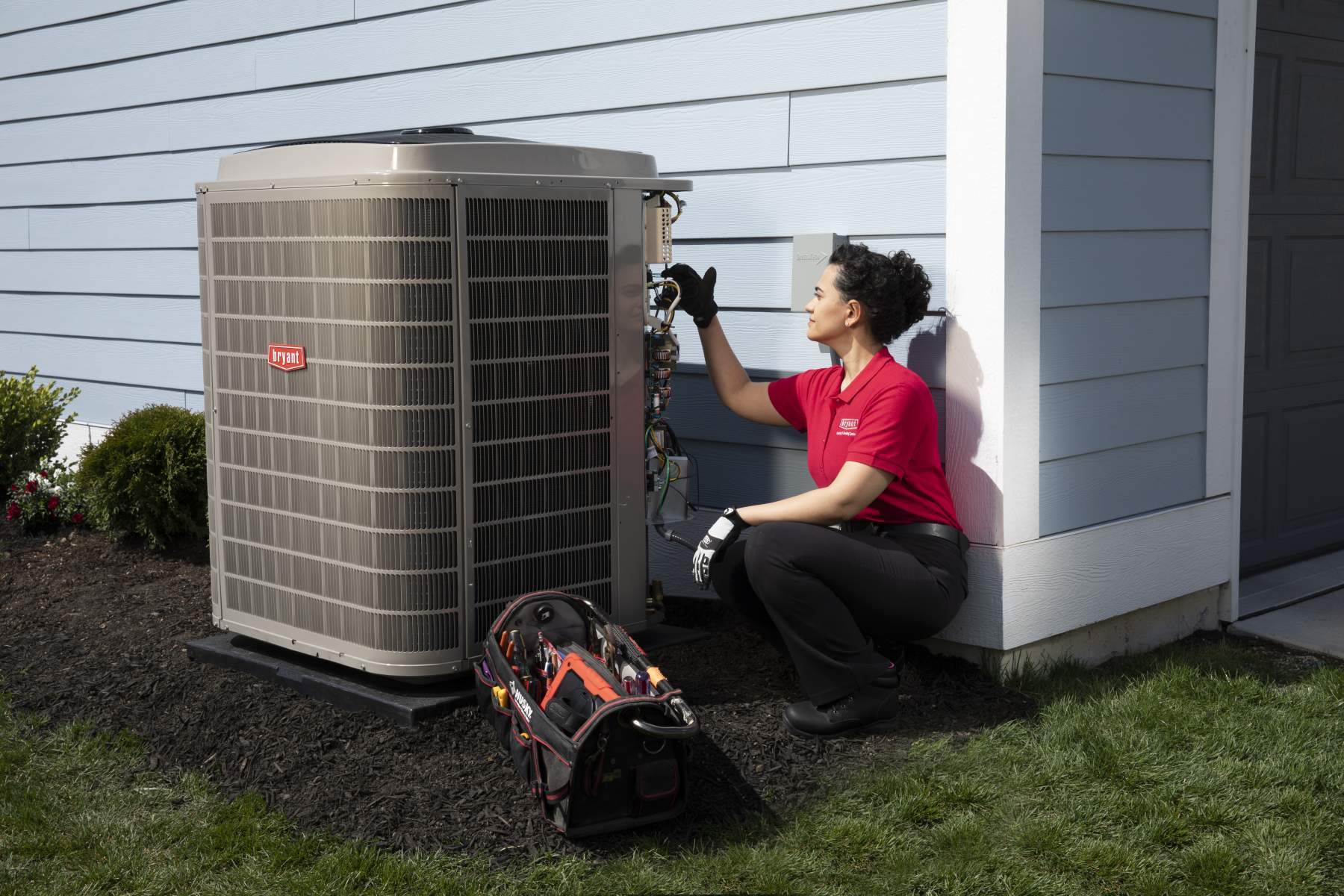 Sign Up Today For
Trusted, Reliable HVAC Maintenance and Repair
Our licensed technicians can perform service on many makes and models. We'll inspect your current system and provide recommendations on the best HVAC solutions based on your interior space and lifestyle.
To schedule maintenance or discuss replacement options for your current unit, contact a Heating & Cooling Two, Inc. professional today!
Maintenance Packages
Take advantage of convenient pre-planned service
All mechanical systems need to be tuned up annually to keep them operating smoothly and efficiently. Just as the mechanical system in your car needs regular tune-ups so does your heating and cooling system. Did you know that your heating and air conditioning system operates approximately 3,300 hours every year? If you compare that to a car driven the same 3,300 hours, at 65 miles per hour it would travel 214,500 miles. Most people would arrange oil changes, tire checks, and other maintenance along the way to ensure the efficiency, comfort, and reliability of the vehicle. Your home's HVAC system is just as important!
Maintenance & Warranty
Every dealer in the heating and air conditioning industry recommends annual maintenance. Many homeowners don't realize that HVAC manufacturers REQUIRE annual system maintenance for system warranties to remain valid. Don't let your warranty get away from you, call Heating & Cooling Two today to schedule your tune-ups!
Schedule Service Today!
The Benefits of purchasing a Heating & Cooling Two HVAC Maintenance Package:
Two Home Visits a Year by a Certified Licensed Technician to Maintain HVAC Equipment
Helps Maintain Lower Utility Bills
Discounted Trip Charges & Service Repairs
Discounted Refrigerant Rates
Help Extend Equipment Life
Complies with Manufacturer's Warranty Requirements
Help Equipment Run More Efficiently
Maintains Equipment Safety
Feel Safe & Comfortable in Your Home
At Heating & Cooling Two, our professional staff offers the benefits and convenience of pre-scheduled HVAC Maintenance on all of your Heating and Cooling equipment including furnace, air conditioner/heat pump, air to air exchanger, boiler, humidifier, etc.
Tune-Up Details
Replace Air Filter (Optional)
Flush Drain Lines & Condensate Trap
Inspect Blower Components
Inspect Carbon Monoxide Levels
Inspect Heat Exchanger & Burners
Inspect Electrical Connections & Wiring
Inspect & Test Safety Controls
Inspect Thermostat Operation
Inspect Pilot Operation
Check for Proper Venting
Check Amp Draw/ Motors
Monitor Electrical Currents
Monitor Heating Cycles
Monitor Flue Draft Operation
Adjust Gas Pressure
Adjust Air Flow for Proper Temperature
Lubricate All Moving Parts
Inspect Overall Operation
Replace Air Filters (Optional)
Flush Drain Lines
Clean Outdoor Unit Using Eco-Friendly Solution
Inspect Blower Components
Inspect Indoor Cooling Coil
Inspect Electrical Connections & Wiring
Inspect & Test Safety Controls
Check Thermostat Operation
Check Operating Pressures
Check Amp Draw/Motors
Monitor Air Conditioning Cycles
Monitor Operation
Adjust Air Flow for Proper Temperature
Inspect Overall Operation
Replace water panel
Flush drain line
Clean outside of humidifier
Check over operation
Replace Inline Filter (Optional)
Replace Water Panel
Flush Drain Line
Clean Humidifier Unit
Inspect Overall Operation
Check Burners, Flame Sensors/Thermo Couple
Test Gas Pressure, Pressure Relief
& System Pressure
Flush Condensate Traps & Drain
(when applicable)
Test Freeze Protection (when applicable)
Check Venting & Gas Piping
Test Main Thermostat
Test Ignitors
Check System Pumps
Inspect Overall Operation
Clean Pre-Filters
Clean Outdoor Intake Vents
Clean Interior
Inspect Overall Operation
Geothermal
Zone Systems
UV Bulb Replacement
Dryer Vent Cleaning
Garage Heater
Electronic Air Cleaner
Dehumidifier
Water Heater Drain & Flush
And More…Call For Details!
Let A Pro Handle That!
Maintenance Packages Available
Platinum Package
Furnace Maintenance
Air conditioning Maintenance
Filter replacement
Humidifier Maintenance
Air exchanger Maintenance
Gold Package
Furnace Maintenance
Air conditioning Maintenance
Filter replacement
Humidifier Maintenance
Silver Package
Furnace Maintenance
Air conditioning Maintenance
Filter replacement
Air Conditioning Service Plans, Air Conditioning Maintenance Plans & Heating Service Plans

Champlin, MN, Otsego, MN, Osseo, MN, Maple Grove, MN, Brooklyn Park, MN & Plymouth, MN
HVAC Services Plans in Osseo, MN | Air Conditioning Service Plans Maple Grove, MN | HVAC Maintenance Plans Dayton, MN
Air Conditioning Service Plans

∴

Heating Maintenance Plans

∴

Air Conditioning Maintenance Plans

∴

Heating Service Plans

∴

HVAC Maintenance Plans ∴ Dayton, MN ∴ Champlin, MN ∴ Plymouth, MN